Last night my husband and I watched the PBS rebroadcast of Ken Burns´ wonderful series on the National Parks. We are very invested in the idea of the parks and very aware of some interests in this country that only value them in terms of extractable commodities. Frequently we hear of oil interests wanting to drill or, worse yet, frack in or near the parks and threaten the water supply. The Two Medicine area of Glacier/Waterton National Parks is one place that, thank the goddess, has finally been spared.
This image is from the National Parks Service website and shows Two Medicine Lake and Mt. Sinopah: https://www.nps.gov/glac/planyourvisit/twomedicine.htm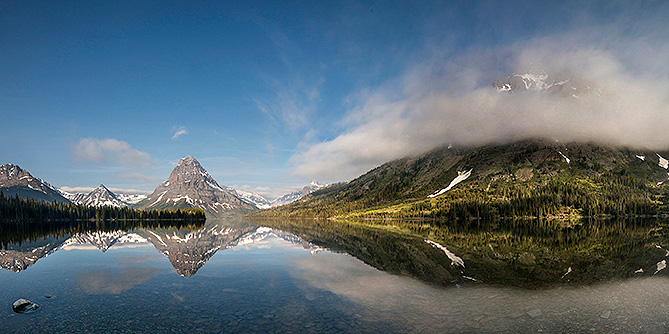 Recently, mostly with the active involvement of our wonderful senator Jon Tester, the U.S. government  canceled the oil and gas leases in the Badger/Two Medicine. This land is holy land. The Blackfeet call Two Medicine the place where Wind was born. I can attest to the likelihood of that as the wind is a major feature! But Two Medicine is holy as well to anyone who is sensitive and attuned to beckoning Spirit. The first time I went to Two Medicine, after I had passed the turn off to Trick Falls, turned the corner to face the lake, and saw the mountains rising up ahead of me like guardian spirits of place I burst into tears. I was so overwhelmed with the power of the place that there was nothing for it but to cry in its presence. Two Medicine Webcam.
Frequently Ken Burns uses quotes from John Muir in his National Parks documentary and one really caught my ear and framed my experience. I could not find it exactly when I scanned John Muir´s writings on the Sierra Club website. But, I offer the following from the first chapter of Muir´s book Our National Parks:
The tendency nowadays to wander in wildernesses is delightful to see. Thousands of tired, nerve-shaken, over-civilized people are beginning to find out that going to the mountains is going home; that wildness is a necessity; and that mountain parks and reservations are useful not only as fountains of timber and irrigating rivers, but as fountains of life. Awakening from the stupefying effects of the vice of over-industry and the deadly apathy of luxury, they are trying as best they can to mix and enrich their own little ongoings with those of Nature, and to get rid of rust and disease. Briskly venturing and roaming, some are washing off sins and cobweb cares of the devil's spinning in all-day storms on mountains; sauntering in rosiny pinewoods or in gentian meadows, brushing through chaparral, bending down and parting sweet, flowery sprays; tracing rivers to their sources, getting in touch with the nerves of Mother Earth; jumping from rock to rock, feeling the life of them, learning the songs of them, panting in whole-souled exercise, and rejoicing in deep, long-drawn breaths of pure wildness. This is fine and natural and full of promise. So also is the growing interest in the care and preservation of forests and wild places in general, and in the half wild parks and gardens of towns. Even the scenery habit in its most artificial forms, mixed with spectacles, silliness, and kodaks; its devotees arrayed more gorgeously than scarlet tanagers, frightening the wild game with red umbrellas,–even this is encouraging, and may well be regarded as a hopeful sign of the times.
Get thee to the mountains, for you will surely be coming home!